Standard Model
Our instruments combine all the features and specifications favored by a majority of our clients who play in symphony orchestras, teach and perform professionally.
Our special silencing and exclusive hand-finishing make Eppler flutes feel and play like other flutes costing more than twice as much.
Silver C flutes have the following in common:
Solid silver tubes.
Solid silver mechanism.
French, pointed key cup arms.
B footjoint with high C facilitator key (gizmo).
C# trill key (very useful for over 16 trills and tremolos).
No adjusting screws.
Gold springs.
StraubingerTM pads.
Modern, professional style hand-cut embouchure.
Offset G-A or in-line open hole (French) mechanism as directed by customer.
Modern A=442 scale (correcting tuning problems most flutes have, i.e. a flat low octave and a sharp high one).
All of our flutes come with:

French style case.
Padded, zipper pocket case cover with handle.
Custommade rosewood swab.

Original dies, masters, and silver footjoint
key cups produced at Eppler Flute Company in 1980.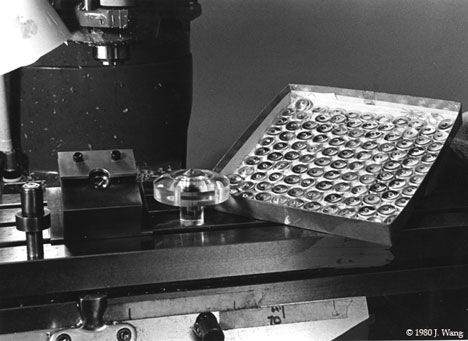 ---
"I purchased one of your flutes about 13 years ago.
My flute has been just wonderful.
My father talked with you a lot in working out the
details of the flute. I can still remember the day
it arrived as being so exciting--to be able to try
it out for the first time. It's gotten
lots of use since then and I play it often.
And thanks for the rose that you engraved
on the head piece. It makes it an even more
special instrument and reminds me of the exciting
time when it was being built. Good luck with everything!!"
--Clancy Scheid (Nov 2005)